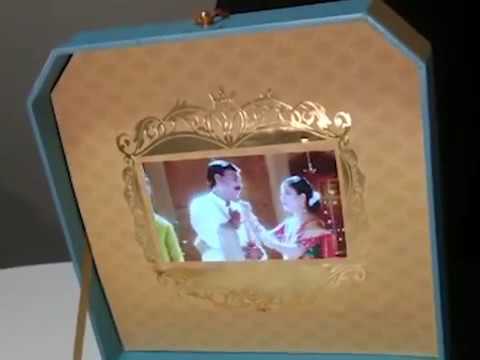 Stunning Wedding Invitation by Gali Janardhan Reddy
Adding more loyalty to the big fat wedding, here is the new wedding card that invites the guests through singing. This sounds crazy right, but it is an excellent usage of technology that is inserted into the invitation card.
The wedding invitation of Karnataka Ex-Minister Gali Janardhan Reddy's daughter is nothing like before. Apart from covering the card the card with gold or silver, it is inserted with LED screen. It is mining baron Ex-Minister daughter wedding and nothing could be much less than perfect.
Mr. Reddy daughter Brahmani wedding is in the month of November. The invitation which comes in the box comes with a defined luxury elegant invitation. As the box opens, a little LED screen comes alive with a song and the text 'Bramhani Weds Rajeev Reddy' will be displayed.
It is then followed 'Athiti Devo Bava' which sung by Gali Janardhan Reddy along with his wife and son. In a setting like the cinematic view, the bride and groom are then introduced and shown eying each other coyly. The bride turns her lehenga and runs in a slow-motion. The groom introduced in white stallions in the backdrop and both sings with other family members.
Finally Karan Johar Responds on Working with Pakistani Actors
The video also shows the date and venue of the wedding. The one-minute video is short and sweet infancy setup which matches the sets of movies.
Gali Janardhan Reddy has spent three years in Jail in connection with the illegal mining and last year he was out on bail. He was the most powerful men once in Karnataka and also owns a mining company. He was the first person in the state who got mining license.
https://youtu.be/0IRs3s-w3ac