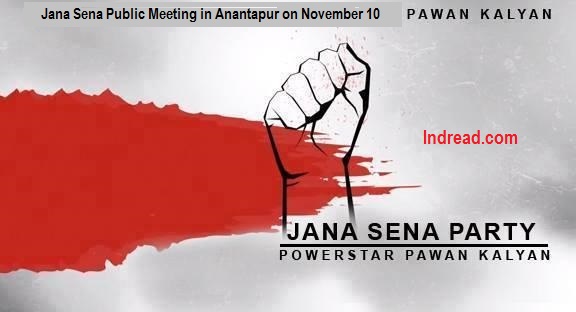 Jana Sena Party President Powerstar Pawan Kalyan is getting ready for his next public meeting. As we know, Pawan Kalyan had already conducted public meetings in Tirupati and Kakinada over AP Special Status, and he got the large response from public and party activists.
To strengthen his move, he is gearing up for another massive public meeting in Anantapur of Rayalaseema area on November 10.  Jana Sena Party organizers recently released a press note regarding this. PawanKalyan Public Meetings in Kakinada and Tirupati became the grand success, and Pawan Kalyan Speech in an aggressive mode made people thinkable.
Press Note From #janasena.
Meet #pawankalyan at Anantapur on November 10th. pic.twitter.com/4HZqD3o8ur

— JanaSena Party (@JanaSenaParty) October 24, 2016
Even he is busy with movies; he is balancing his political and film career. As a part of conducting public meetings in every district on the AP Special status, this time it's Anantapur.
Party treasurer M. Raghavaiah on Monday released a press note mentioned that Pawan Kalyan chose Anantapur district, which often faces scarcity would be beneficial by getting Special status to Andhra Pradesh.
In a press note it was mentioned that "If we get special status to AP, Anantapur district will benefit first. Earlier we planned to conduct a public meeting on October 1st week. And due to surgical strikes in the border, it had postponed.
On November 10th, Pawan Kalyan public meeting is going to organize at Anantapur and the venue is not yet confirmed."
Next Public Meeting Of #Pawankalyan 's #Janasena Party On November 10th At Ananthapur !

— PawanKalyan Devotee (@SidduOfficial) October 25, 2016
This time organizers are taking extra care to choose the site which will not cause any calamities. Let's wait and see what Jana Sena chief will talk this time. All are waiting for Pawan Kalyan Speech in the upcoming public meeting.