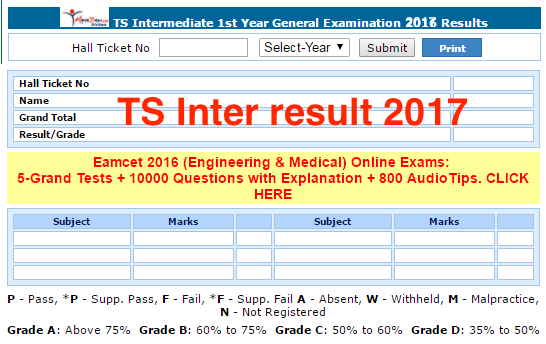 Telangana Inter 1st Year Results: Telangana State Board Of Intermediate Education-TS BIE has released the first year Intermediate results 2017. Telangana government conducted intermediate exams in the month of March. Students who studied day and night are eagerly waiting for results. Please, visit the official website results.cgg.gov or bie.telangana.gov.in to know your IPE Marks. Scroll down to get the direct link from our site.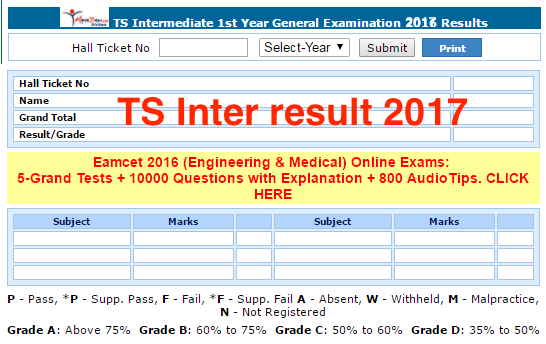 This year nearly 9.64 Lakh candidates have appeared for TS Intermediate exams. The number of candidates appearing for the Inter exam is increasing in Telangana year by year. Last year Telangana Government released the results on 22nd April.
TS BIE Which stands for Telangana State Board Of Intermediate Education is a Board Of Education in Telangana State. It came into force in the year 2014 located at Nampally in Hyderabad. It is a newly formed Board after state bifurcation with Andhra Pradesh. It commenced its operations like Prescribing Syllabus, Conducting Examinations, Granting affiliations to colleges, etc. from the year 2014 itself.
                 Students wrote their exams in the month of March from 1st to 17th. Students belonging to different streams like M.P.C, BI.P.C, H.E.C, C.E.C, M.E.C can check their result from Telangana State Board official Page bie.telangana.gov.in.
Steps To Check Your Intermediate Public Examination Results 2017:
Click on their official website results.cgg.gov.in or bie.telangana.gov.in
Below "News And Announcements" you will find a link on Telangana State Board Intermediate First Year Results.
Click on it.
Enter your Roll number and click on submit button.
Your Total Marks, Grade and status information like (P for PASS, and F for FAIL) are visible on your home screen.
Grade Allotment:
More than 75% – A Grade
More than 60% – B Grade
At least 50%     – C Grade
At least 35%     – D Grade
         As lakhs of students have attended for the Board Exam, n number of people will access the official websites at the same time, and server down issues arises. To avoid these problems candidates are advised to check the following websites.
There are two ways to check the Intermediate Results one is through Official website links, and the other option is by via SMS.
For First Year Students: IPE1<Space><Hall Ticket No>54242
For First Year Students: IPEG1<Space><Hall Ticket No>5676750
For First Year Vocational Results: IPEV1<Space><Hall Ticket gNo>54242 or 5676750
NOTE:
IPE Score is very much important to students because it will add weightage to get good Rank in EAMCET.
1.25%(IPE) Marks + 75% (EAMCET) Marks.
Students who got good marks but still want to increase their score can Apply for either
Betterment
Revaluation
           Students who were failed and thrown out of the game are advised to Apply for Supplementary Exams and start your preparation immediately. Students can pay the compartment fee at any nearest Mee seva Centers.
Steps To Download TS Intermediate 1st Year Supplementary
Time-Table 2017:
Go to the official website www.bie.telangana.gov.in
Click on Telangana Supplementary/Compartment Time Table.
The Time-Table PDF will automatically download into your device.
Take a print out and start your preparation immediately.
Incoming Searches:
Telangana Inter 1st Year 2017 Exam Results
TS Inter 1st Year General 2017 Exam Results
TS Inter 1st Year Regular Results 2017
Telangana 1 Year Regular Exam Results 2017
Telangana jr. Inter Results 2017
TS Vocational jr Inter 2017 Exam Results
TS 11th Inter 2017 Exam Results
TS First Year Results 2017
Telangana Jr Inter 2017 Exam Results
TG Intermediate Board 2017 Exam Results
TS Inter 1st Year Regular Results 2017
TG Inter 1st Year Regular Exam Results 2017