Top 7 smartphones launched in India in August 2017
Rumours about OPPO F5 are getting more frequent than ever as the official launch of the handset nears. The new selfie expert by the Chinese smartphone maker is going to be launched at an event in Philippines on October 26, followed by its release in India on November 2. As more and more details about the handset leak, OPPO surprise elements shrink.
Adding to the pile of OPPO F5 leaks, a new promotional photo from Thailand just leaked to show that the handset would come in not one but three variants. OPPO F5 standard variant, whose specs have been leaked in detail in the past, along with OPPO F5 6GB and F5 Youth.
The leaked poster reveals some interesting details, such as AI Beauty selfie camera. A recent report had speculated that OPPO will take advantage of artificial intelligence to "recognise skin tone and type, the gender and age of all subjects within an image and analyze environment lighting conditions by referencing other facial images from a massive global photo database, to beautify a selfie shot."
With this we can conclude that the OPPO F5 will have enhanced selfie capabilities that will give it an edge over rivals, Vivo and Honor. The handset is said to come with a 20MP selfie snapper contradictory to the earlier report suggesting a dual camera setup.
OPPO F5 is also seen with a large 18:9 FullView display, which supposedly measures 6 inches diagonally and has a screen resolution of 2160×1080 pixels.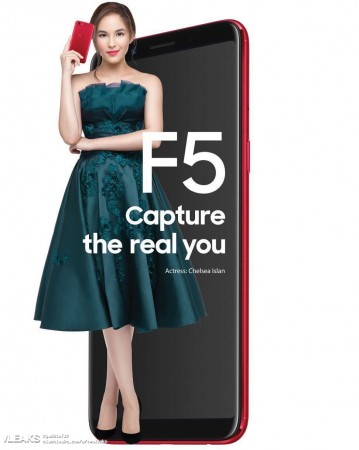 But the highlight of the new leak is the addition of two new models. OPPO F5 6GB aptly suggests the handset would have 6GB RAM, while rest of the specs remain the same. The third variant, named OPPO F5 Youth, seems like a toned-down version of the standard model.
Features like 16MP rear-facing camera, facial unlock and smart beauty filters are common in all three models. Other specifications include 4GB RAM, 64GB storage, a 16MP rear camera, a Snapdragon 660 chipset and a 4,000mAh battery.
It remains to be seen how many models, if they do exist, OPPO plans to launch in India next month. Stay tuned for updates.