Hyderabad, June 2: Telangana Formation Day – Newly formed and 29th state of India celebrates its first birthday today. The celebration is to go a week-long starting from today.
??????? ??????? ????????????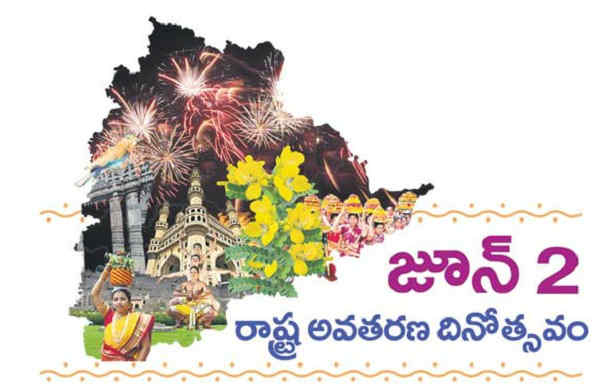 India's youngest state, Telangana is celebrating its first year completion after separate state formation. Starting with a bang this morning, it is to celebrate week-long festivities in the state from today, June 2. Complete Telangana State is in celebrations for finishing one year of their formation. K Chandrasekhar Rao, the Chief Minister started the day with lots of hope for future to grew in the economy.
KCR, today morning started with tribute at the Martyrs Memorial, Gun Park in Hyderabad. At Hyderabad's Parade Grounds, a colourful parade went on at the main official function after hoisting the national flag.
India's 29th state, Telangana is formed exactly today in the last year after five decades of demand, campaign, politicking and protests from the people residing at the state. It was carved out of Andhra Pradesh and formed as a separate state from Seemandhra.
Many controversies, law and order issues, ban on a few television channels, capital city formation, etc. have come across the government after TS formation. Till now, some of the issues still exist but the govt is coping in finding solution for all possible issues.
On the occasion of Telangana Formation Day, PM Narendra Modi tweeted his greeting, "My best wishes to the people of Telangana on the occasion of their Statehood Day. My best wishes for the State's development journey".
Telangana Formation Day Highlights
3D illuminating mapping is set up at three places – Secunderabad Clock Tower, Buddha statue in Hussain Sagar and Kacheguda Railway Station.
Major places of Hyderabad, secretariat, assembly, Raj Bhavan, the Chief Minister's official residence, historic monuments and some government buildings will be illuminated this evening on this occasion.
Almost 10 districts of the state are planning for grand celebration and this includes culture and struggle for statehood of Telangana.
All the people who are strictly rendering their services to government will be honored today.