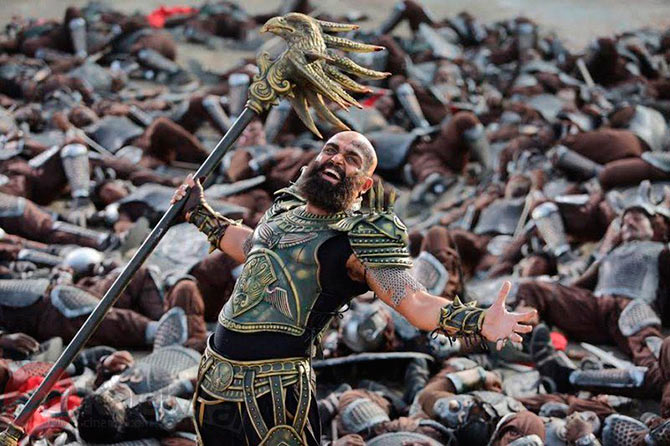 Kaashmora Review: Tamil actor Karthi and Nayanthara in lead roles supernatural fantasy thriller Kaashmora Tamil movie hit the screens worldwide on October 28 worldwide as a Diwali gift to fans. Directed by newcomer Gokul, Kaashmora has may interest things n it.
Kaashmora is a Tamil movie produced by SR Prakash Babu and SR Prabhu under Dream Warrior Pictures. The film features star artists like Karthi, Nayanthara, Sri Divya and Vivek. Busy music director Santosh Narayan has composed tunes for this most awaited epic drama. After the release of Kaashmora trailer and first look posters, it has created a lot of interest among movie lovers.
Official Trailer reveals the Kaashmora movie story a little bit. It has all the potentials to become a blockbuster of the South.  Definitely, this is the first choice in South for this Diwali. Already advanced bookings and Kaashmora Online Tickets sold out in all regions in Tamil Nadu and Andhra Pradesh. Before watching the film, check Kaashmora Review, Rating and public talk.
Kaashmora Movie Review: Five Reasons to Watch Karthi's starrer
The versatile actor Karthi who has a huge fan base in Tamil Nadu, Kerala, Telangana and Andhra Pradesh is the main reason to watch the film. He is a good actor and always coming up with different subjects to project himself as a talented actor. His pat flicks Madras, Komban and Thozha are box office hits and currently he is on winning streak. Karthi Kaashmora First Look Posters are stunning and he looks ferocious in a new avatar with grown beard, tonsured head and moustache.
He will be seen in three different characters as Raj Nayak, Kaashmora and a Mystery Man. Nayanthara plays a role of Rathna Maharani and Sri Divya will be seen in a special cameo role.
Kaashmora is a periodic drama that consists of all elements like horror, comedy and action. Kaashmora Movie story seems to be covered in mystery that goes back at least 500 years. We have seen tantrics and saints do a lot of bad things on big screen. Based on black magic we haven't seen in recent times.
This is a periodic drama. In recent times, people show more interest to watch periodic films. Rajamouli's Baahubali is the main example for this. However, Karthi Kaashmora has about 30 minutes of periodic drama which said to be the highlight of the film. Everyone compared it with Baahubali? Will it match up with Baahubali? Let's wait and see. Kaashmora budget of Rs. 55 Crores.
Great VFX works used in Karthi's film. The Chennai based visual effects studio worked for VFX affects. Initially, the film planned for a Pongal release next year but it brings Diwali a day before. The film has 90 minutes of VFX that has developed by 20 VFX studios and 100 technicians.
Kaashmora Movie Rating: 3.5/ 5
Watch Kaashmora Official Trailer
Check for More Movie Update: Indread
Also Click for 
Check Here Kaashmora Review.
Kaashmora Tamil movie.
Kaashmora.
Kashmora trailer.
Kaashmora Official Trailer.
Kashmora Online Tickets.
Kaashmora Review, Rating.
Kashmora Movie Review.