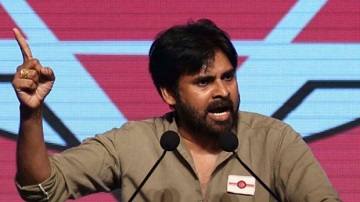 Powerstar Pawan Kalyan is a busy person now. He is managing both movies and politics simultaneously. Coming to the latest updates, Pawan Kalyan to contest in elections from 2019.
Earlier Powerstar extended his support to TDP-BJP alliance and played a significant role in getting the crowds towards TDP in 2014 elections. The exciting news is that the versatile actor is going to contest in elections from Eluru which is the headquarters of West Godavari district.
As we know, Pawan Kalyan started a party named Jana Sena in 2014, and it has been approved by the election commission on December 11, 2014. In 2014 general elections, Jana Sena has supported BJP- TDP and played a key role in their win.
#pspk ఏలూరులో తన ఓటుహక్కును నమోదు చేసుకునేందుకు అభిమానుల కోరిక మేరకు సమ్మతించినట్లుగా తెలుస్తోంది.#JanaSenaManaSena pic.twitter.com/WWi4tOpUmY

— pk25 1st look త్వరలో (@phanikumar0) October 31, 2016
An official press note released from Jana Sena Party treasurer Marisetty Raghavaiah regarding Power Star to contest in Elections from Eluru in 2019 general elections. Jana Sena party activists and fans from Wet Godavari district met Pawan Kalyan on Monday and requested him to register as a voter in Eluru.
He also informed his party activists to set up a party office in Eluru for regular activities. If reports to be believed, Pawan Kalyan to contest in elections from Eluru in 2019 without supporting other local parties. Previously, Power Star registered from Hyderabad. Now he asked his assistants to take required steps to transfer his name to the voters' list in Eluru.
Pawan Kalyan Political career is in a just initial stage. And we don't know how people will receive Jana Sena in upcoming 2019 elections. Kalyan Political meetings on AP special status issue in Kakinada and Tirupati a grand success.
He targeted both TDP and BJP for neglecting special status to AP. Pawan Kalyan Political Speech in public meetings inspired youth and many members. Jana Sena officials released press note about Kalyan next public meeting, and it will held in Anantapur on November 10.