Hyderabad, May 20: Telugu Film veteran actor and Hindpur MLA Nandamuri Balakrishna joined hands together with Indian cricket star, Yuvaraj Singh to support for cancer patients.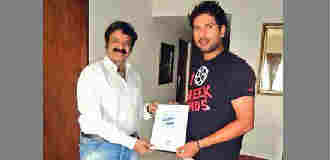 Actor and cricketer joined together to help to facilitate better medical aid and other support to cancer patients at the Basavatarakam Cancer Hospital. With this association YOUWECAN, a firm foundation will assist the cancer hospital.
Everyone knows that, earlier Yuvraj Singh himself battled with cancer, for this he went to US for treatment at the time of 2011 world cup, he successfully fought with the cancer and came back to cricket. Actor Balayya has been operating the Basavatarakam Cancer Hospital and Research Institute as a Chairman.
Basavatarkam Indo American Cancer Hospital is the one of the best cancer hospital in India to day and it provides comprehensive cancer care for patients. It is professionally run by the two boards of trustees, i.e. SmtNandamuriBasavatarakaRamarao Memorial Cancer Foundation, India and Indo American Cancer Organization, U.S.A.
The non-profit cancer foundation offers services to cancer patients with best Cancer specialist in India, with world class treatment and facilities and it is committed to offer timely diagnosis and treatment for cancer patients.
Now Cricketer Yuvaraj singh is also joined with the foundation to support the cancer patients with better facilities.