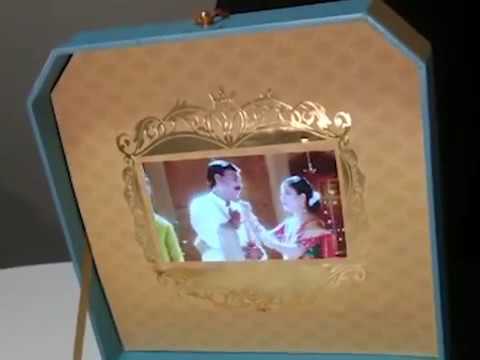 Karnataka mining mafia king Gali Janardhan Reddy daughter wedding is the talk of the town now. The mining mogul of Karnataka Janardhan Reddy is planning his daughter marriage more memorable.
Gali Janardhan Reddy daughter wedding hits the headlines after releasing an expensive wedding invitation which contains LCD screen displaying a musical video sung by Gali's family. Just the wedding invitation stuns the invitees and shows how rich he is?
The invitation video goes viral on social media now. Golden Apparatuses, private Bomb shelter, and diamond covered chairs what, not everything made her daughter marriage an expensive thing.
The LCD invitation is undoubtedly an innovative move, and till now no one had used this in India, that's Gali Janardhan Reddy. Gali family along with bride and bridegroom has sung a song and mesmerized all.
Coming to the marriage details, here are few latest updates for you folks. As per latest report, we heard that the invitee's list for the wedding is too long. The Prime Minister of India Narendra Modi has been invited for a bag fat marriage along with few big persons from film industries and politics.
Meanwhile, former Karnataka Lokayukta has demanded that IT department would monitor the wedding for expenses. All Union Ministers along with Prime Minister Narendra Modi will also expect for the marriage to be held in this November.
Marriage Updates from Gali Compound
Gali Janardhan Reddy daughter wedding is going to be held for 11 days.
All Popular persons from India like politics, film Industry and business persons will be expected to attend for a rich marriage
It would be an expensive wedding and nearly Rs. 550 crores are going to spend for a marriage
Invitation sent to Prime Minister Narendra Modi
BJP central minister Venkaiah Naidu and AP Chief Minister Chandra Babu Naidu will also grace the grand event
Shah Rukh, Prabhu Deva, and Katrina Kaif also in the list of Invitees
However, all are eagerly waiting for Gali's daughter big fat wedding and after watching the invitation expectations reached to sky high. Gali's son-in-law, Rajeev Reddy is a son of Hyderabad-based big industrialist Vikram Devarareddy. The wedding will take place in Karnataka on November 16th in a grand way.