Indian film actor Dhanush discarded to do Big B Amitabh Bachchan films. It means he openly stated he'll not do remake of such star movies. One should be high qualified enough and ability to carry it.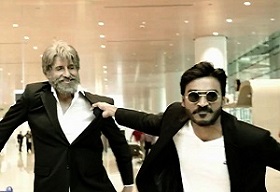 Dhanush simply stated "I'll not do remake of Amitabh Bachchan's film". When you hear this statement it sounds strange and makes you to think in other way. But know the reason behind why he stated so? He loves Amitabh Bachchan's films but he wont fit or apt (qualification) to make such great super stars movies.
Dhanush asked if he would get chance or like to do remake of Big B (Amitabh) movies then Tamil super star immediately told Bollywood Country "I will definitely not do a film of his because I can't carry it. I am not qualified enough to do his films. As far as his films are concerned, I just loved 'Sholay' and 'Deewaar'."
Bollywood mega star Amitabh Bachchan's has joined his hands with director R. Balki. Amitabh, Dhanush and Akshara Haasan (Shruthi Haasan sister) plays lead roles in upcoming movie named "Shamitabh". Of course people are excited to view film and filled with plentiful hopes, that eventually going to hits the box office. Southern star Dhanush also says he is still trying to learn Hindi.
"I am still learning the language. It will take time. I try talking to my friends and relatives in Hindi. They keep correcting me. I am running around and planning to take tuitions," he said.
When asked Dhanush about how he manages to balance between south and Bollywood films, he said: "You have time for everything if you plan carefully. For me, both the industries are equally important."